Vancouver Missions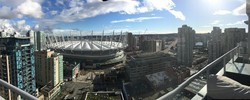 Grade 9 students will be traveling to Vancouver. They will be serving along side of a number of inner city ministries. A focus of the trip is to hear the voice of God and service.
Please be in prayer for:
-Safety while traveling.
-Hearing the word of God.
-Courage in responding to the word of God.
Wednesday March 22nd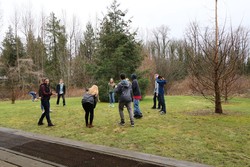 So! This is Raeanna and it is currently 9:54 pm here and we've had a great day. We started off with an early morning at the airport and good flight (quite turbulent but still good) Once we arrived in Abbotsford, we headed to the school where we are sleeping at until Sunday, we did some volleyball and had lunch and then we were back on the bus to the Mark Centre! We had a good session with Steve Klassen and had a half hour of quiet reflection time, which was very positive for us all. Then we walked to a park and had a fun time in the sprinkling rain. We came back for supper and then Samuel's Mantel (a group from the church) came and let God speak to us through them. They showed us what pictures God was putting in their minds or what they felt He wanted to tell us. It was very powerful and very encouraging for the team. Looking forward to tomorrow! ~ Rae
 We have arrived safely in Abbotsford BC. We started the day at the airport and we all got through security. A few people had to take their shoes off but that was it. The flight was pretty good, but pretty bumpy. When we landed in Abbotsford we loaded the bus and headed to the school we are staying at. We had some time to kill before lunch so we played in the gym. We got a volleyball net set up and played some basketball. After lunch we headed to the mark centre. We had a really good session with Steve Klassen about hearing the voice of God. We had about half an hour of reflection time (our date with God). The reflection time was super positive for everyone, after this we headed to a nearby park. We had some down time and some tree climbing. We went back to the Mark's Centre for supper and then Samuel's mantel (a church group) came and talked to us. They let God speak to us through them. It has been a very powerful day and we our looking forward to tomorrow ~ Ciara
March 23rd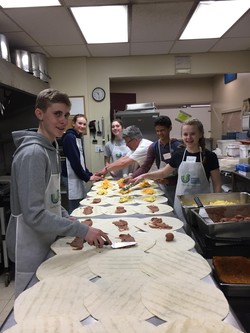 So today started with an early morning, starting around 5:45 to 6:00, and then we immediately headed off on a bus to volunteer at some different street ministries. We split into 3 different groups, one at Union Gospel Mission, one at Nightshift Ministries, and one at Surrey. My group went to the Union Gospel Mission where we served a breakfast of steak and eggs to some people from the streets. We also spent time talking to the people eating. It was really interesting hearing different stories and reasons for why people were where they are. There was one couple that really impacted me. They were both homeless however, even in their situation, they were preaching the gospel and showing God's love to others on the street. Hearing their story really helped to show me that there's no reason to hold back from showing God's love to others and that we need to always be confident that God can work through us. So after everyone was finished eating breakfast we made burritos for the next day. So once we were done there, we went to some canyons. We hiked around there for a while and had a lot of fun. Then we bought some food and went to the ocean to eat it. My friends and I went on to a rocky island to eat. It was really cool. Then we had a little debrief and got back to the school. So that's the day, and now I'm ready for tomorrow. ~Ethan
Today is the second day here, and we started the day bright and early around 6am. We headed off on the bus to 3 different street ministries (Union Gospel Mission, Nighshift, and Surrey Urban ministries, and we spilt off in groups of 5 or 6 to each one. My group went to Surrey Urban Ministries and did lots to help out. We organized their canned goods to make sure they were not over due, organized clothes for people to take, and stacked some bread as well. Around noon as the homeless started coming into the building, we served lunch to them. We took trays and walked and talked around with different homeless people and had some great conversations. This one man told me that it brights up his day when he sees beautiful young people coming together to serve, and that made my day. After the lunch was over we headed to the bus and picked up the other groups, and went to Lynn Canyon Park, where we went on a beautiful hike and saw God's amazing creation. After we were done there, we headed to the grocery store to buy some food for dinner. We packed on the bus and ate our food by the ocean shore Whyte Cliff Park, and it was so peaceful. There was a big rock island that we explored and that was a pretty fun time. We debriefed about our day and then went off by ourselves and had our own little devotional time and tried to hear what God had to say to us, or had been saying to us throughout the day. We headed back to the school after that to get ready for another fantastic day. ~Madi
Today was our first official day of ministry. There were three groups that split to different areas. I went to Union Gospel Mission. We started out the day serving breakfast to the people who came in. We interacted and talked with some. After breakfast our group helped make burrito's for the next days breakfast. Before lunch we lead a chapel. Ethan played the guitar and we sung Amazing Grace. After we read a poem by Doreen Kostynuik and explained the meaning of it to our audience. We ended in prayer. We then served lunch and ate with the guests. Some people didn't want to talk and others had a lot to say. It was interesting and sad some of the life stories I heard. People ended up on the street in so many ways. Some had great lives before, and others not so much but they all still were without a home. After we went to Lynn Canyon and went on a hike. We saw beautiful trees and streams and had lots of fun exploring. We then stopped for supper and headed off to Whyte Cliff Park. There was a little island I had a lot of fun climbing. We then took some time with God on our own. We spread out for a half an hour and reflected on the day and talked to the Savior that we came here to honour. The day is done and I can't wait to help more people tomorrow. ~Mackenzie
March 24th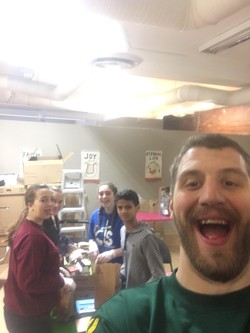 Today we went to this place called Sum day ministries (Surrey Gospel Mission), we helped them serve food to the homeless. We also went to a place on East Hastings called Street Church. We served food to who ever was Hungry. Some of us were standing out side calling people in to see if they wanted food, every one was really polite even though they were selling drugs right behind us. While we where calling "free hot dogs and coffee in side", there was a drug dealer right behind us. After like a few minutes he started calling people to come in to get some food, I just thought that it was pretty cool to see how we affect people. Cant wait for tomorrow. ~ Pierre
Today was an extremely impacting day. We started the morning with our team going to one of three ministries (UGM, Nightshift or Sum Day ministries). I was at Sum Day ministries, we helped put together 150 bag lunches with peanut butter and jam sandwiches. The students then aided in serving lunches to the guests at the mission. The afternoon was spent exploring Steveston harbor. I personally enjoyed having some fish and chips in the rain staring out at boats J. Our evening ministry consisted of helping street church serve hot dogs and run a service. It was so neat to see the joy that the students brought to Street Church. They proclaimed the Gospel of Christ through both song and witness to the goodness of Christ in their life.
~Mr. Charest
March 25th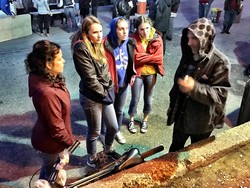 Today was a pretty chill day. I woke up early this morning to help set up brunch for our team with Rae, Kaylee, Ciara and Mic. The rest of the team woke up later than as getting the sleep they needed after the last two days, working and serving people at the three different ministries we went to (Union Gospel Mission, Nightshift, or SUM Day Ministries). After everyone woke up and got changed into their clothes, we got together to reflect and talk about listening to God and what he wants us to do and then we separated from each other to talk to God and read our bible. After that we had brunch and then chilled a bit before going swimming. Some people were playing volleyball while others stayed in the library to talk with each other. We started heading off to swim and have fun on the bus. We jumped off the high board, diving boards and went in the waterslides. After swimming, we went back to the school to eat supper and rest once again. After that 12 students went to Nightshift to serve more people like last night when we went to the Street Church; praying for them and preparing food for the street people to eat which will be nice. Me and 4 other students stayed behind to help Miss McIntyre clean the kitchen and bathrooms and bake some cinnamon buns. Tomorrow we will be moving to the Mark Centre, which sounds really fun. Can't wait for church tomorrow! J
~Abby
After some very busy and impacting days, we were thankful for some time today to rest and reflect on what God is teaching us. The day started a little later, allowing students some time for some much needed sleep. I had a wonderful crew of students helping me in the kitchen prepare a big brunch for everyone. The students had some quiet time with God to listen to what he was saying and to process some of the things they've seen the last few days. After brunch, the students went swimming, and then came back to the school for an early dinner. A large group went to Night Shift in Surrey to serve a meal and to show God's love to hurting people. I had a small group of students stay back at the school with me to help do some cleaning tasks as we prepare to move to the Mark Centre tomorrow morning. We also were able to be the prayer team behind the scenes, taking some time to pray for the group serving in Surrey, lifting them up and asking God to use them in powerful ways. I'm so proud of this wonderful group of young people. They are serving and loving people, allowing God to stretch them out of their comfort zones in order to make an eternal impact.
~Natalie
It all started with a very long sleep in. After we woke up we chilled and slowly woke up. Later we each chose a quite spot in the school and spent some time, reading and pondering Gods word. Eventually we ate a delicious brunch, which was totally worth the wait. Again we hung out and played volleyball in the gym. When the time came we all went to the pool and had a great time swimming and playing charades on the jumping board. We came back to the school and ate supper, and then took the bus to night shift ministries and served Mac and cheese with sandwiches to all the street friends. After we served the food we all went and started conversation with the people that had come, meeting some interesting people with some great stories and things they want to be. We packed everything up and went back to the school. Us boys had met a great guy who played and made music, he had just recently paid fifteen hundred dollars and still owes nine hundred bucks. We checked his website when we got back and realized the guy had got scammed, and we all felt an urge to pray for him. We got in a circle and prayed for him and Gilbert who was a drunken man we met yesterday at street church. Right now we are discussing everything and then will head to bed. Tomorrow we will be moving to the Mark center to stay there fro the rest o the trip.
~ Edan
March 26th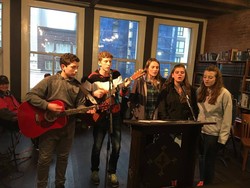 March 26, 17
This morning we woke up at 6:15 to clean up Abbotsford Christian School. We had to be out of the library at 8:00. After we were done we went to Gateway Reform Church. The sermon was about Mark 10:17-30. It was about giving all that you have to the poor and treasure Jesus. Once church was over we went onto the bus and went to Granville Island. Our assignment while we were there was to take 10 pictures of the ten threads. The ten threads are Creation Enjoyer, God Worshipper, Beauty Creator, Order Discoverer, Idolatry Discerner, Justice Seeker, Image Reflector, Community Builder, Servant Worker and Earth Keeper. When we were done shopping at Granville we went to Street Church on East Hastings in Vancouver. This was our second time going to East Hastings, so all of us were more comfortable with the environment. We served our Street Friends hot dogs, salad, rice and carrots mixed with cauliflower. We had an open microphone to speak. Abbey, Kaylee and Madi shared this testimony and Edan, Andres, Raeanna, Emily and Madi did worship. Once we were all done cleaning up the church we had some Street Friends sing and we danced with the Street Friends and made friends for a lifetime. We finished at Street Church at about 8:30. Once we were finished we hoped on the bus and came to the Mark Center. We sang two songs, how he Loves us and Ten Thousand Reasons. Tonight we are sleeping at the Mark Center for the first time. ~Madison
This morning we woke up at 6:00 to clean up the library and the school because we had to be out of the library at 8:00. When we were done cleaning we at breakfast in the staff room. When we left we walked to gateway reform church. The sermon was about Mark 10:17-30. It was about giving all that you have to the poor to treasure Jesus. Later that day after church we headed to Granville Island and went shopping for lunch and just shopping and seeing the sites. We had the assignment to take pictures of the ten threads, we took pictures of us in a circle and us tying each other shoes. Once we were done shopping at Granville we hope on the bus and had quite time, then we were off to street church on east Hastings, this was our second time but we felt more comfortable this time, and this time I shared my testimony, I did share my testimony this time and I broke down, when I was sharing it but once I was done the next girl that went up was saying how she knows how I fell and that I touched a lot of hearts, and many people told me that they loved how brave I was and how I did change peoples minds and touched peoples hearts. Then we hoped on the bus and went to the mark center, got rooms got everything in order and went down stairs to eat the night snack which was popcorn. And we sang too songs then went to bed
This morning wake up was at 6:00, but I packed the night before and I got to sleep in until 6:47. After everyone was done cleaning the school and loading bus we walked to Gateway Reformed Church. The message was about entering the kingdom of God         (Mark 10:17-30 ). Then we went to the mark centre and unloaded our bus.
After the bus was unloaded we went to Granville island and enjoyed an afternoon of shopping and wandering around the island and looking through the stores.
Once we were done at Granville we went to street church again and fed our street friends more hotdogs. I sang with Madi, Rae, Edan, and Andres. Then I went outside with some other people in our class and we told people that there was hotdogs and coffee. One guy came up to us (rudely) and was telling us that the girls were all satans sisters and that he was Jesus 2.0. He's really been on my mind and I pray that he finds Jesus someday soon.
~Emily      
March 27th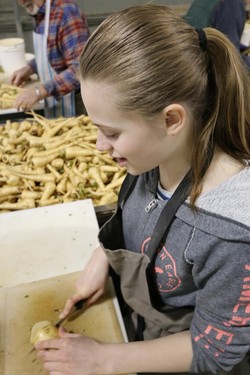 March 27th
Today we went to Fraser valley gleaners to be the hands and feet of God by helping the people that are in need. We woke up at 7:00am to be able to get to the Fraser valley gleaners. We went there to collect the vegetables that farmers don't put in the market and we use them to feed the people that need food, because the farmers would have originally thrown that food that dose not look perfect in the garbage but we are using those to help others that are hungry. We where aiming for 150,000 bowls but we surpassed that number by reaching 250,000 The vegetables where cut, dried, packaged, and shipped of in boxes to various different places in the world. I think that we really made a difference in the life of the people who where at the Fraser valley gleaners and the people that are receiving the bag of soup mix. We where there we met the people that volunteered there and met them, worked with them, talked to them, and at the end we sung for them when we where finished working. I think that we really where doing what God calls us to do in this world by being his hands and feet to help and serve others
-Andres